Our self-service smart lockers for prescription medicines enable convenient and queue-free prescription collections at suitable locations inside and outside of hospitals and health centre buildings.
Reduce queues in busy dispensaries

Provide improved patient access and convenience, with a 24-7-365 service and a fast, stress-free experience

Frees up staff for more value-add work
Today we are…Connected…Informed…Want control
With the advent of online shopping, and the rapid growth of smartphones and tablets, more and more consumers are comfortable using technology and indeed expect to see it.
There is a rapidly growing trend across many healthcare sectors where people are wanting to take responsibility themselves for finding and accessing information, services and products, and are using digital self-serve technology as the means to achieve their goals.
The days of passively accepting long waits and lengthy queues to pick up prescriptions are over, as reflected in declining service satisfaction ratings.
Automated and secure dispensing improves service and efficiency
Our specialist smart lockers enable you to provide a reliable and secure click & collect service. They deliver convenient and queue-free prescription collections at suitable locations inside and outside of hospitals and health centres.
The unit's design and smart software makes it easy for patients to use, incorporating innovative, robotic-based dispensing technology, while ensuring security with automatically closing doors.
With their modular design they can expand to incorporate varying numbers of locker units under a single control unit and software platform that manages all functionality seamlessly, with a proven capability to integrate with 3rd party solutions and business systems.
Hospitals and health care centres invest in our lockers to offer value both through convenient services for patients and solutions that makes their employee's life easier. Our smart lockers reduce queues in busy dispensaries, and provides an efficient service and experience for patients, while freeing up staff for more value-add work.
Improving patient service and operational efficiency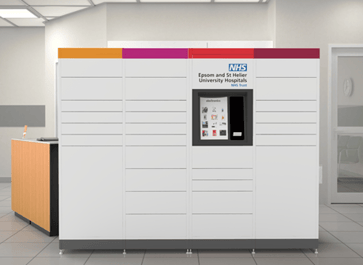 Pinntec is at the forefront of a new initiative within the NHS which seeks to harness digital technology to improve guidance and help simplify the choice for patients, and in doing so provide a better service for everyone.
We combine enterprise software with engineering innovation and specialist equipment design to deliver more self-sufficient patient, visitor and staff journeys, and better resource management.
From new information touch screens which collate relevant information and present it in a simple straightforward manner, to queue management and guidance systems, and intelligent vending and secure dispensing technology, we are helping healthcare providers to improve service and efficiency.
For more information on how our digital technology can help improve patient choice and convenience and your service efficiency, please get in touch and find out more about our Meditec range of solutions.