The NHS offers a fantastic range of services to support the mental and physical wellbeing of patients and their families. In fact, there are so many services, trying to find the right one and keep track of them is becoming increasingly difficult.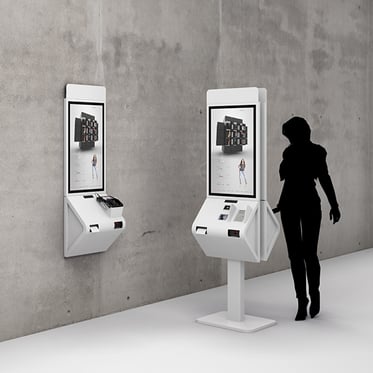 Pinntec is now providing new NHS service touchpoints which combine some of the best elements of digital innovation; personalisation, up to date information, a useful and engaging presentation format, and all with the immediacy of expert personal advice in a local setting. The optimum mix of physical and virtual.
We lose patience quickly - if we can't find it, it's not there!
We are all familiar with the rows and rows of leaflets found in GP services and health centres. Well-meaning documentation but with no easy filter to determine relevancy or usefulness - it's no wonder people are overwhelmed with information.
Healthcare providers are often offering choice at the expense of clarity.
Confusion will push us to abandon our search
According to Google, the number of abandoned baskets across all online retail sectors is roughly 69%. That's the equivalent of 100 people walking into a store and 70 of them walking out without buying anything.
In the physical world, that's unsustainable. In the virtual world, it is one of the drivers to improving online performance. There are many reasons for such rates, but a primary one is confusion and difficulty in finding what you want.
The same principle applies to healthcare. The equivalent of the abandoned basket is patients not being able to book the next stage of treatment plans, or not ordering repeat prescriptions, or not accessing support services.
Today we are… Connected … Informed … Want control
W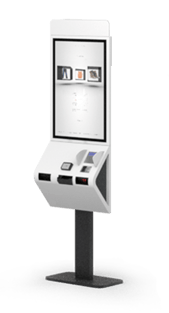 ith the advent of online shopping, and the rapid growth of smartphones and tablets, more and more consumers are comfortable using technology and indeed expect to see it.
There is a rapidly growing trend across many healthcare sectors where people are wanting to take responsibility themselves for finding information, services and products, and are using digital self-serve technology as the means to access the service. The days of general, impersonal advice are over.
Simplifying choice and improving guidance
Pinntec is at the forefront of a new initiative within the NHS which seeks to harness digital technology to improve guidance and help simplify the choice for patients, and in doing so provide a better service for everyone.
New information touch screens are being installed which collate relevant information and present it in a simple, straightforward manner. The user can determine which information they require. The hardware, designed by Pinntec's strategic partner Pyramid Computers in Germany, uses 32" touchscreens linked to websites which have a plethora of information.
For more information on how digital technology can help provide self-service capability in your sector, please get in touch.